The Heritage Foundation this week asked the Office of Congressional Ethics to open an investigation into Rep. Alexandria Ocasio-Cortez, D-N.Y., for "falsely accusing" and "defaming" the creator of the Libs of TikTok Twitter account, Chaya Raichik.
Heritage's complaint notes that in a Feb. 8 hearing at the House Oversight and Accountability Committee, Ocasio-Cortez claimed that Raichik lied in a 2022 tweet by saying Boston Children's Hospital is "now offering 'gender affirming hysterectomies' for young girls." That tweet was a response to a video of a doctor who was talking about hysterectomies, although the doctor never discussed the age of the patients.
"Are you aware… that from August 11th to August 16th that account posted false information about Boston Children's Hospital claiming that they were providing hysterectomies to children?" Ocasio-Cortez asked a former Twitter executive about Raichik's tweet.
AOC RIPPED FOR POSTING ON TIKTOK AFTER HOUSE HEARING: 'THIRSTY FOR ATTENTION'
"And are you aware that this lie was then circulated by other prominent far-right influences?" Ocasio-Cortez asked.
Heritage's complaint argues that with those and other statements, Ocasio-Cortez violated a House ethics rule by "knowingly and intentionally defaming Chaya Raichik, creator of the viral Libs of TikTok account, falsely accusing her of lying and disseminating disinformation…"
The nine-page complaint defends Raichik's view that Boston Children's Hospital performs gender affirming hysterectomies on young girls. Aside from being the "premier pediatric hospital," Heritage noted that the hospital's website notes that it performs gender affirmation surgery to "eligible adolescents," and that the Journal of Clinical Medicine has documented that the hospital has "performed 65 double-mastectomies on minors over the course of three years."
Other material collected by Heritage shows that gender affirmation surgery has been performed on patients as young as 15, and that the hospital "quietly changed its website to reflect that 'genital surgeries are only performed on patients age 18 and older."
FORMER TWITTER SAFETY CHIEF: 'REGRETTABLY' LIBS OF TIKTOK ACCOUNT REMAINS ON PLATFORM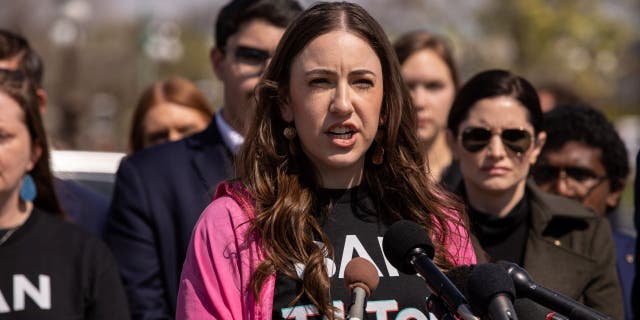 "Rep. Ocasio-Cortez's accusation that the tweet contained false information is itself outrightly false on its face," Heritage argued. "Rep. Ocasio-Cortez knowingly made this allegation in bad faith."
It added that Ocasio-Cortez "recklessly blamed Ms. Raichik and her tweet for the actions of other people reacting to Boston Children's Hospital's video, claiming that it fueled threats and harassment towards the hospital and its staff and incited violence against 'trans and LGBT people.'"
Heritage argued that the Office of Congressional Ethics should reprimand Ocasio-Cortez, remind lawmakers they have a duty to refrain from making false accusations, strike the accusations from the record and press Ocasio-Cortez to apologize to Raichik.
This week, Raichik delivered the complaint directly to Ocasio-Cortez's office, and asked a House staffer to "stop lying about American citizens." Raichik then ran into Ocasio-Cortez in the Capitol.
AOC SLAMS HOUSE OVERSIGHT HEARING ON 'HALF-FAKE' HUNTER BIDEN LAPTOP STORY 
"I just delivered an ethics complaint to your office because you lied about me in a committee hearing," Raichik said.
"You're actually super transphobic and I never want to share a space with you," Ocasio-Cortez said when she realized who Raichik was.
CLICK HERE TO GET THE FOX NEWS APP
Ocasio-Cortez's office did not immediately respond to a Thursday morning request for comment on the filing.