Supporters of former President Donald Trump began flocking to his Florida residence at Mar-a-Lago Tuesday ahead of his possible indictment. 
Crowds of some of Trump's most ardent supporters wore cowboy hats, American flag suits and pro-Trump gear while gathering along the Palm Beach, Fla., road leading to Mar-a-Lago Tuesday. Many held signs with messages, including, "I Stand With Pres. Donald J. Trump," "Drain the Swamp Vote Trump 2024" and "Trump Won. Democrats Cheat." 
The Town of Palm Beach issued notices warning of expected increased congestion around the traffic circle at the Bath & Tennis Court from 11 a.m. to 5 p.m. Tuesday. 
The Orlando Sun-Sentinel reported that Trump's plane with his name on the side was at Palm Beach International Airport at noon Tuesday, indicating he may remain in South Florida. 
MANHATTAN DA ISSUES SCATHING RESPONSE TO GOP LETTER ON POSSIBLE TRUMP INDICTMENT: 'WE WILL NOT BE INTIMIDATED'
In New York, a Manhattan grand jury is weighing whether to indict Trump over hush-money payments made to porn actress Stormy Daniels on his behalf during his 2016 presidential campaign. Trump sounded the alarm in a Truth Social post Saturday that he could be arrested as soon as Tuesday as part of Manhattan District Attorney Alvin Bragg's probe. 
But a law enforcement source told Fox News an indictment is not expected until next week to allow time to bring in more police, put up barriers and put lights up with generators.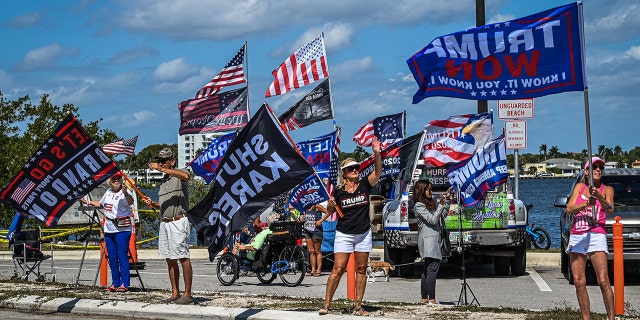 House Judiciary Committee Chairman Jim Jordan, R-Ohio, and the other top Republicans on the Administration and Oversight committees on Monday sent a letter to Bragg demanding that he turn over documents related to his Trump investigation and testify before Congress after reports said Trump could face an indictment this week.
In response Tuesday, Bragg's office said it would "not be intimidated by attempts to undermine the justice process, nor will we let baseless accusations deter us from fairly applying the law."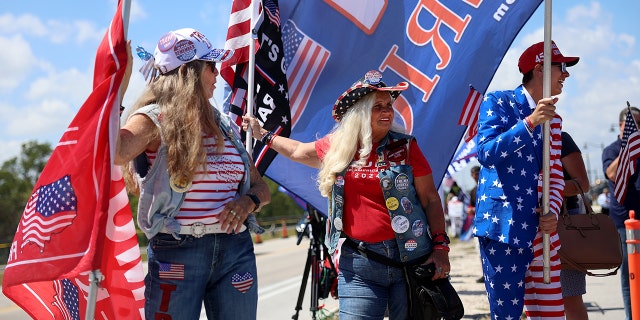 MICHAEL COHEN, SUPPORTING TRUMP'S ARREST, FEARS POSSIBLE MESSAGE TO ADVERSARIES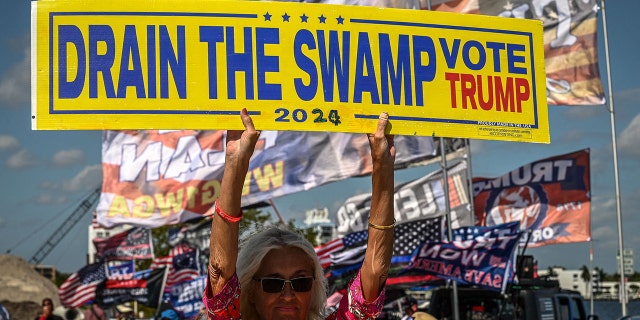 "In every prosecution, we follow the law without fear or favor to uncover the truth. Our skilled, honest and dedicated lawyers remain hard at work," the spokesperson told Fox News Digital. 
In an online video presentation Monday night, Roger Stone, of Fort Lauderdale, told pro-Trump crowds, "It is vitally important that you keep it peaceful, you keep it civil, you keep it orderly and you keep it legal. The left would like to trick us into overreaction and violence and lawlessness, so they can blame President Trump, and so they can scoop up America First leaders.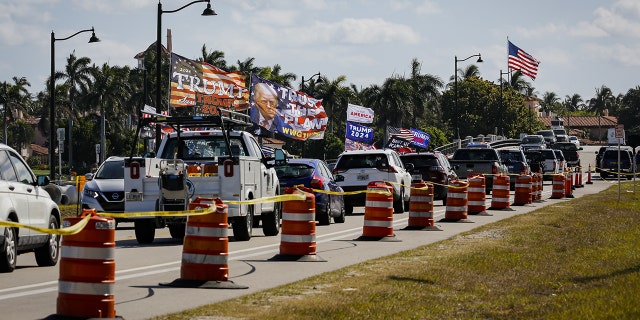 "They would love to entrap or entice or goad American patriots into violence or some other inappropriate act so that they can blame President Trump," Stone, who was pardoned by Trump after being convicted of lying to Congress, added, according to the Sentinel. "Do not take the bait folks." 
CLICK HERE TO GET THE FOX NEWS APP
CBS News reported, citing sources, that Trump remains huddled at Mar-a-Lago Tuesday with senior advisers awaiting possible news from New York City. 
Fox News' Chris Pandolfo contributed to this report.