A Colorado city is considering a resolution that would ban new gas stations and automobile service stations to combat climate change.
The proposed ordinance before the city council restricts the number of gas stations and service stations for Louisville, Colorado, to six, with a seventh being permitted only if it's part of a large retail center.
"We have an obligation to take every step possible to address the changes to our climate that are ravaging our planet and directly impacting the health, well-being and livelihoods of the constituents we represent in Louisville," Councilmember Maxine Most told Fox News.
HOW CLIMATE ALARMISM IS MAKING PEOPLE CHILDLESS BY CHOICE:
WATCH MORE FOX NEWS DIGITAL ORIGINALS HERE
The city council document including the ordinance defines automobile service stations as a business "engaged in the sale of motor fuels and in supplying goods and services generally required in the operation and maintenance of automotive vehicles and the fulfilling of motorists' needs." It adds that "major automotive repairs, painting, body and fender work are prohibited."
New gas stations and service stations will also be required to have at least two charging stations for electric vehicles and be 1,000 feet away from existing stations unless it's part of a large retail center, according to the ordinance.
Louisville, a Denver suburb with about 21,000 residents, currently has five gas stations with a sixth recently approved for construction. 
SERIAL GAS STOVE USER STACEY ABRAMS TROLLED FOR JOINING GROUP THAT WANTS TO BAN THEM
The Louisville Sustainability Advisory Board reviewed the proposal earlier this month, recommending that the ordinance reduce the number of stations to five and remove the exception for an additional station for a large retailer.
Limiting stations is a growing trend for local municipalities "due to health and environmental concerns with the continued use of gasoline powered vehicles and equipment," the document's analysis section states.
It points to California municipalities that have as passing similar restrictions, like Petaluma, Santa Rosa and Sonoma County.
UN REPORT PREDICTING CLIMATE CATASTROPHE IN 2030 MET WITH MOCKERY: 'EVERY SINGLE PREDICTION' HAS BEEN 'WRONG'
"Gasoline station bans may also be seen as promoting the use of Electric Vehicles (EVs), thus, reducing vehicle emissions and encouraging low-carbon and cleaner energy options for transportation," the ordinance adds. 
It lays out goals for Louisville such as meeting the city's municipal electricity needs with carbon-free sources by 2025, generating 75% of the city's residential, commercial and industrial electric needs with carbon-free sources by 2030 and reducing greenhouse emissions.
UTAH SCHOOL GIVES KIDS 'DISGUSTING' INSECTS TO EAT IN CLASS FOR CLIMATE ASSIGNMENT ON COWS KILLING THE EARTH
"The proposal for a cap but not a full ban on new gasoline and automobile service stations is in recognition that there will continue to be some demand for gasoline and automobile service stations as more EVs enter the market and gasoline vehicles are transitioned out of the market over time," the document adds.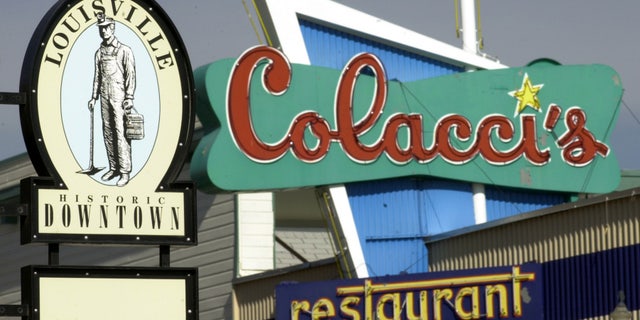 CLICK HERE FOR THE FOX NEWS APP
Last year, the city council passed an emergency moratorium to ban the construction of new gas stations until September 2023. 
There are 9,840 electric vehicles in Boulder County, where Louisville is located, according to Drive Electric Colorado.