Progressive Rep. Ilhan Omar, D-Minn., argued that the government and educational institutions are not keeping parents in the dark on vital information regarding their children, despite parents across the country accusing schools of withholding information on their child or the curriculum.
"I am not aware of… any decisions that are being made by lawmakers here in Congress, by local lawmakers, saying we do not want parents' input, we not want parents' involvement, we don't want parents' engagement in our schools," Omar said during the House Education and the Workforce Committee hearing Wednesday.
The "Squad" member went on to say that claims from representatives that important information is being withheld from parents are not based on facts. 
"So I just hope that we put this argument, that is not based on the actual facts that are taking place in our communities, to be put to rest," Omar stated.
EVEN LIBERAL PARENTS FEEL 'VILLAINIZED' BY SCHOOLS SOCIALLY TRANSITIONING THEIR KIDS WITHOUT CONSENT: REPORT
Many parents have documented instances where a school kept a child's gender identity or information about explicit instruction materials from parents.
IDAHO SCHOOLS INSTRUCTED TO KEEP PARENTS IN DARK ABOUT STUDENT'S GENDER, NAME TRANSITIONS
In 2021, the National School Boards Association (NSBA) asked the Biden administration, including the Department of Justice, for assistance dealing with parents, comparing alleged threats from parents to domestic terrorism. 
Parents have complained about being kept in the dark by their kids teachers. Fox News Digital recently reported on Idaho public school district teacher policies that prevent instructors from sharing certain information about a child with their parent, including sexual orientation. Teachers who violate these policies could face termination.
"School employees should not disclose a student's transgender status or sexual orientation to other individuals, regardless of setting, including the other school personnel or (in the case of middle school, junior high school, and high school students) the student's parents/guardians, unless they have a legitimate need to know or unless the student has authorized such disclosure," the school district policies read.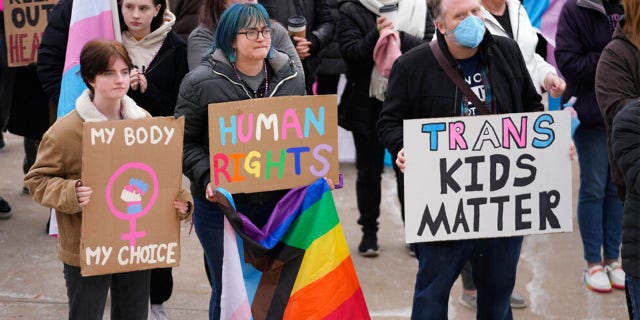 One mom, Aurora Regino, sued her school district for allegedly secretly transitioning her child without her knowledge. The child reportedly was struggling after the loss of a family member and when she sought help at school, the guidance counselor reportedly told her to take on the identity of a male. The counselor then allegedly told the teachers to call her by male pronouns, without the parent's knowledge.
Just a few weeks ago, St. Louis Children's Hospital advised a Missouri school district to not require staff to disclose chest-binding practices of students to parents.
CLICK HERE TO GET THE FOX NEWS APP
President Joe Biden proposed changes to Title IX to include protections against sex-based discrimination that includes gender identity. Under these changes, schools would not have to notify parents before socially transitioning their child's gender, critics say.
Fox News' Jessica Chasmar and Kristine Parks contributed to this report.