Michael Cohen, a convicted felon working as Manhattan prosecutors' key witness against Donald Trump, admitted Sunday to the dangerous message it would send to American allies and adversaries if the former president is seen handcuffed. 
"Do I think that Donald will be fingerprinted, swabbed, mug-shotted? Absolutely," Cohen told MSNBC's "Alex Witt Reports" Sunday. "Do I think he'll be handcuffed? No. And in fact, I don't want to see Donald Trump handcuffed and paraded through… because I respect the institution of the presidency." 
"This is about Donald Trump being held accountable for his own dirty deeds," Cohen said. "I don't want to see anyone, and that includes Donald Trump, indicted, prosecuted, convicted, incarcerated, because I fundamentally, or the country, fundamentally disagrees with so much of what comes out of his mouth."
"I don't want to see Donald handcuffed and paraded through… because it's an embarrassment to our country," Cohen admitted in the interview on MSNBC. "Could you imagine our allies and our adversaries, how they could either enjoy this or despise us as a direct result?"
CONVICTED FELON, KEY WITNESS MICHAEL COHEN CLAIMS TRUMP SEEKS 'VIOLENT CLASH' AHEAD OF INDICTMENT  
Cohen told MSNBC that he was asked to make himself available and show up to the Manhattan District Attorney's Office on Monday as a "rebuttal witness." 
Meanwhile, Bob Costello, a lawyer who briefly advised Cohen before the two had a falling out, will be testifying before a grand jury hearing evidence against Trump in District Attorney Alvin Bragg's probe, Costello himself confirmed to Fox News. 
That development was first reported by The Wall Street Journal. A source familiar with the proceedings also told Fox News that Costello will be heard at the request of Trump's lawyers.
The New York Times reported over the weekend that there was one final witness to be heard by the grand jury before they voted on an indictment.
HOUSE JUDICIARY COMMITTEE DEMANDS MANHATTAN DA ALVIN BRAGG TESTIFY ABOUT POSSIBLE TRUMP INDICTMENT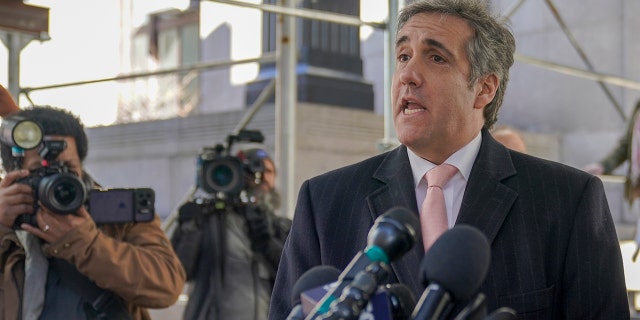 On Saturday, Trump announced on TRUTH Social that he expected to be taken into custody on Tuesday, ripping Bragg's probe as "corrupt," "highly political" and led by a George Soros-funded district attorney. 
The Associated Press, citing a person familiar with the matter, reported Costello was prepared to offer testimony Monday to a grand jury attacking the credibility of Cohen's statements. 
Cohen is a former lawyer and fixer for Trump who has been a key witness in Bragg's investigation, meeting regularly with prosecutors and appearing before the grand jury earlier this month. Cohen served prison time after pleading guilty in 2018 to federal charges, including campaign finance violations, for arranging the payouts to porn actor Stormy Daniels and model Karen McDougal to keep them from going public. Trump has denied the affairs.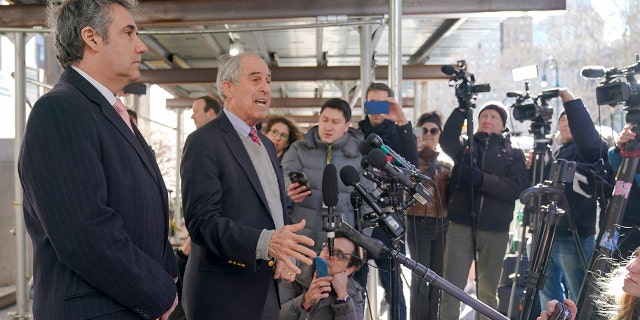 Costello is a veteran New York lawyer who has represented Trump allies, including his adviser Steve Bannon and his personal lawyer and former New York City Mayor Rudy Giuliani. Costello's connection to Cohen was highlighted in the report of special counsel Robert Mueller, who investigated alleged ties between Russia and Trump's 2016 presidential campaign as well as efforts to obstruct the probe.
CLICK HERE TO GET THE FOX NEWS APP
According to the Mueller report, Cohen began speaking with Costello in April 2018, days after the FBI raided Cohen's home, hotel room and office. Amid public speculation about whether Cohen would begin cooperating with investigators, Costello emailed Cohen to reassure him that he had had a "Very Very Positive" conversation with Giuliani and that "you have friends in high places," the AP reported. 
The Associated Press contributed to this report.