It is so much easier than you may realize to find basic information about you or anyone you know online.
CLICK TO GET KURT'S CYBERGUY NEWSLETTER WITH QUICK TIPS, TECH REVIEWS, SECURITY ALERTS AND EASY HOW-TO'S TO MAKE YOU SMARTER  
With a little digging, your phone number, home address, email address, age and more can all appear in a web search. If you haven't already, be sure to read my article on how to remove yourself from the internet.  I explain many of the dangers that can come from keeping your personal info online. 
Sometimes, websites will display a frightening amount of your personal information with no digging at all on a Google search. If you search to find your name and your email, home address, phone or other private information appears directly on the Google search results page, you can request to have Google take this down.
Google can also take down other personal information if something such as personally identifiable information (such as info used for doxxing) or involuntary explicit images or video are posted.
Be sure to read on to learn how to scrub your personal info from Google.
How to remove your personal information from Google searches
Request personal contact information to be removed
This is important to know in case any of your personal (NOT professional) information gets posted publicly. That means if your cell phone number that you don't want clients or anyone you don't know to have comes up in a Google search for your name, you can request this to be removed.
You can use this request feature if personal information has been shared (on a website you don't control or in a news story to harm you, for example) against your wishes.
If you don't have a Google account, use this form to request information be removed from a Google search result.
If you do have a Google account, follow these steps.
1. Go to Google.com and search for your name
2. Find the search result that includes personal information (email, phone number, or home address) you don't want to appear in this search result
3. Next to the link of every Google search result, you'll see three vertical dots, like this: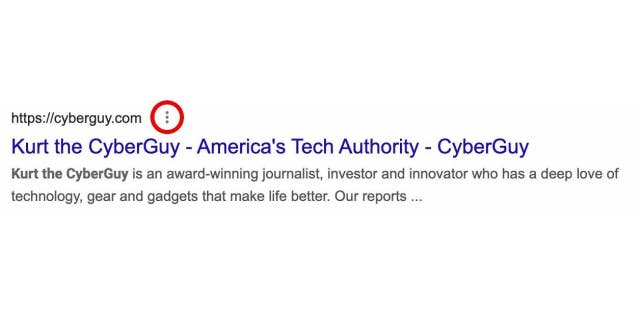 4. Tap the three dots to reveal menu options
5. Tap Remove result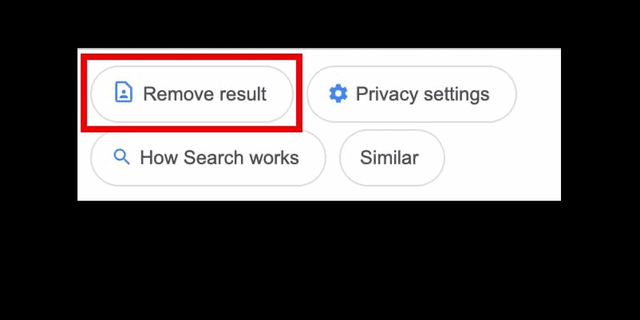 6. Tap It shows my personal contact info
7. Fill out the information (be sure to use the exact information shown on the search request) and submit your request.
8. Click I'm done
You'll receive an email confirmation that your request was submitted within a few hours. Requesting this be removed does not guarantee it, but it's helpful to try and remove any personal information you don't want online.
Request explicit, exploitive, and other personal information from Google
Google will remove the following content online:
While no result will be deleted off Google immediately, these are the best steps you can take to continue to protect your personal privacy.
CLICK HERE TO DOWNLOAD THE FOX NEWS APP
Copyright 2022 CyberGuy.com. All rights reserved. CyberGuy.com articles and content may contain affiliate links that earn a commission when purchases are made.