FIRST ON FOX: Sen. Steve Daines, R-Mont., introduced a bill Friday to require a full review of North American Aerospace Defense Command (NORAD) capabilities after a Chinese spy balloon was allowed to enter U.S. airspace and traverse the continental United States before being shot down.
In early February, a Chinese surveillance balloon lurking over the Big Sky State caught national attention after a resident detected the mysterious object. Despite various members of Congress calling on President Biden to shoot down the spy balloon, the Department of Defense allowed the object to float across the entire continental U.S. before it was taken down off the coast of South Carolina.
While visiting with officials at the Malmstrom Air Force Base Friday, one of the sites the spy craft flew over during its flight across America, Daines announced proposed legislation that he anticipates will "expose any limitations that have been or have the potential to be exploited by foreign countries that would allow air assets to enter North American airspace undetected."
"The Chinese spy balloon fiasco and the subsequent shoot-downs that followed it was a national security embarrassment due to complete incompetence by the Biden administration," Daines said in a press release Friday, obtained first by Fox News Digital.
DAINES RAILS AGAINST BIDEN'S HANDLING OF ISSUES, SAYS HE LEFT CHINESE BALLOON BRIEFING WITH 'MORE QUESTIONS'
Daines' bill proposes a "gap analysis" of NORAD capabilities, meaning it would analyze whether there are any missing components to identifying potential threats from foreign aerial objects entering U.S. airspace.
The senator, chair of the National Republican Senatorial Committee (NRSC), explained that "since President Eisenhower founded NORAD 65 years ago, the United States did not shoot down a single aerial object identified by NORAD until Feb. 2, 2023."
"Since then, the U.S. has shot down four," Daines added. "Two of these objects flew right over where I stood today at Malmstrom Air Force Base, where we house our ICBMs — the most powerful weapons known to mankind."
ENEMIES NO LONGER FEAR US RESPONSE AFTER BIDEN BOTCHED AFGHANISTAN, EXPERTS SAY AMID BALLOON, DRONE CLASHES
"How was a Chinese spy balloon and subsequent flying objects able to invade the sovereign airspace of the United States of America? We must get to the bottom of how these objects incurred on American and Montanan airspace and ensure that never happens again," Daines said.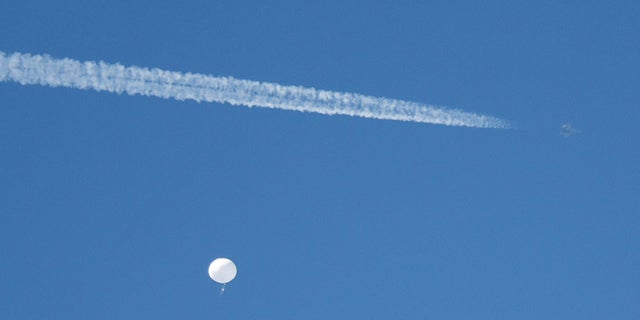 Since the incident, Daines has been demanding transparency from the Biden administration regarding the balloon. The senator released a set of questions for Biden that asked why a surveillance balloon was allowed to enter U.S. airspace if it was a violation of international law to do so and how close the balloon got to Malmstrom Air Force Base and Montana's missile silos.
CLICK HERE TO GET THE FOX NEWS APP
The Biden administration has not yet answered Daines' February questions about the spy balloon.