MANCHESTER, N.H. – Former Republican Gov. Chris Christie of New Jersey said his trip on Monday to New Hampshire, the state that holds the first primary and votes second overall in the GOP presidential nominating calendar, will help him decide whether to "get into the battle" and launch a 2024 GOP presidential campaign.
Christie said that a key to that decision will be whether he sees a pathway to victory over former President Trump and Florida Gov. Ron DeSantis.
Christie will headline a town-hall style event Monday evening at the New Hampshire Institute of Politics, which for over two decades has been a must-stop for actual or potential White House contenders from both major parties. Word of the town hall and a dinner later in the evening with close friends and supporters in the Granite State was first reported earlier this month by Fox News.
The former two-term governor, who unsuccessfully ran for the 2016 Republican presidential nomination and who is considered one of the best communicators in the GOP, has repeatedly said for well over a year that he is "thinking" about making another bid for the White House in 2024.
FIRST ON FOX: CHRISTIE TRIP TO NEW HAMPSHIRE SPARKS MORE 2024 SPECULATION
Christie told Fox News Digital ahead of his trip that he plans "to go up there and talk to people in New Hampshire — who I know are the best-informed voters in the country about things that I think are important in the world and in our country right now — and to see how they react to that, and see that what they think about things that I think are important."
When asked if a positive response from voters will further encourage him to run again for the White House, Christie said "there's no question that if you find that you're connecting with people that makes you more encouraged to want to get out there and try to get into the battle."
CHRISTIE ARGUES THAT REPUBLICAN PARTY ISN'T DOMINATED BY TRUMP
However, he emphasized that he and his wife Mary Pat "haven't made any decisions yet, and I think this is all part of that process. Having gone through it before, there's a lot less mystery to it than there was to me the first time."
Christie's said he will make a 2024 decision in the next 45 to 60 days. He explained that the three factors going into his decision will be "seeing a pathway to winning… believing that you have something at that moment to offer the country that it needs to hear," and whether he would have the support of his family.
"If I answer yes to all three of those questions, then I'll run. If I answer no to one of them, then I won't," he said.
Trump became the first major Republican to declare his 2024 candidacy when he launched his third straight campaign for the White House in mid-November, soon after the 2022 midterm elections. He remains the clear front-runner in the latest GOP presidential nomination race polls.
DeSantis remains on the 2024 sidelines as of now, but is widely expected to enter the race, and polls suggest he would be Trump's top rival. In an interview this past week on Fox Nation, the Florida governor said "stay tuned" when asked about his political future.
When asked if he can compete with Trump and DeSantis, who enjoy larger national followings and bigger war chests, Christie said "that's what we're trying to figure out."
WHO'S IN AND WHO'S ON THE SIDELINES — YOUR GUIDE TO THE 2024 GOP PRESIDENTIAL NOMINATION RACE
"I think the most important thing is to go out there, be authentic, be yourself, and see how people react to that," he said.
Pointing to New Hampshire, where there is a heavy presidential primary emphasis on candidate-to-voter connections and retail politics, Christie said "war chests and name ID" don't matter as much. 
"Those kinds of things this early on are really not that important. What matters more is how you connect to voters and what you have to say. If that's something that resonates with them, they'll move in your direction," Christie said.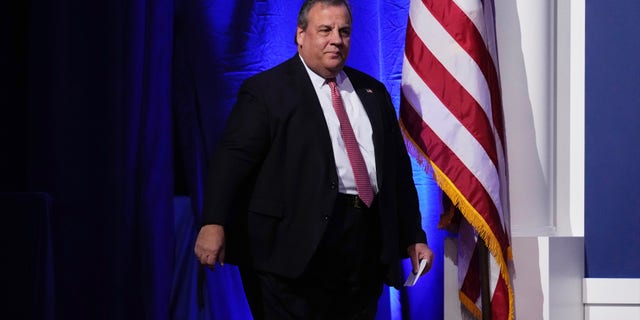 Christie placed all his chips in his campaign for president seven years ago in New Hampshire. However, his campaign crashed and burned after a disappointing and distant sixth-place finish in New Hampshire, far behind Trump, who crushed the competition in the primary, boosting him towards the nomination and eventually the White House. 
Christie became the first among the other GOP 2016 contenders to endorse Trump and for years was a top outside adviser to the then-president. However, the two had a falling out after Trump's unsuccessful attempts to overturn his 2020 election loss to President Biden.
He reiterated his message that "we lost in 2018, in 2020, in 2022, all with Donald Trump leading the way. There's a lot of concern being expressed by donors about that and their desire that our primary is robust and that there are alternatives there that could possibly win in a general election."
CLICK HERE TO GET THE FOX NEWS APP 
Christie huddled with many of the larger donors in the conservative movement who were attending an American Enterprise Institute conference in Sea Island, Georgia, two weeks ago.
"I've had a lot of interesting conversations with donors over the course of the last few weeks," he shared.